The signs, symptoms and findings
Once the user has finished the 'Diagnosis', he/she can start the treatment by using the 'Treatment' feature provided in the application. The module will list all the signs, symptoms and findings as the differential diagnosis completed by the student. This feature is accessible only when the user has diagnosed the disease correctly. Else, the user is prompted with the screen saying the disease has to be diagnosed, before the treatment is started.

Flow chart of Treatment Module
Once the user is successful in diagnosing the disease, system will show the disease diagnosed and click on "START" button to start prescribing medicines, for the selected symptoms to treat.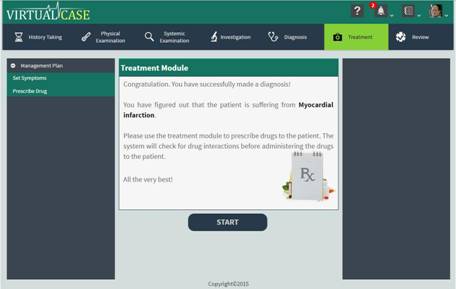 User will not be allowed to move forward to drug prescription feature, without selecting any findings to treat. It is mandatory to select at least one finding to treat.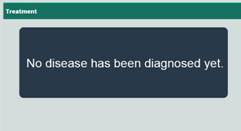 Message : If the student has yet to confirm the disease in DDx Module