Respiratory System - Chest Palpation
Gentle chest-wall palpation can indicate if the patient has chest pain. Local tenderness can be identified, the causes of which include bone, muscle and cartilage disease, and pleurisy. User can click on the coloured spots to note down the text response.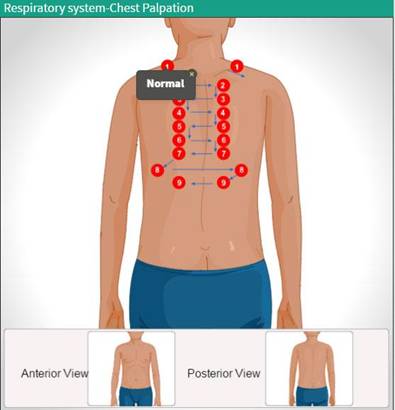 Simulation Type

Condition, Using graphics

Gender Specific

Yes

 

Condition Simulated

●     Normal

●     Abnormal Cases:

○     Tenderness

○     Sensation

○     Skin Temperature

○     Masses or Lesions

○     Pulsations

●     Apex beat

Procedure

The system will display a patient's chest region marked with ten red spots.

●     User can click on  the required view to start palpation.

●     Click on each spot to palpate, the system will display the result through a small pop-up on each click.