Range of Motion
Range of motion is the process of checking the ease of motion and subjective complaints, as well as the degree of mobility of body parts. Using interactive animations in this activity, user is able to check the extension, flexion or rotation of the neck.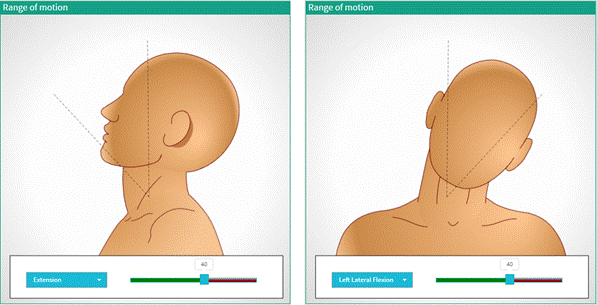 Simulation Type

Range, Using interactive animation

Gender Specific

No, Common for both genders

Range

Range of Motion:

●     Extension(20-70) degree

●     Flexion(15-60) degree

●     Left Lateral Flexion(20- 70) degree

●     Right Lateral Flexion(20-70) degree

●     Left Rotation(15-45) degree

●     Right Rotation(15-45) degree

Procedure

●     Select the desired head movements from the dropdown list to start the test.

●     System will show a slider with normal range of head movement.

●     Move the slider from left to right to move the head.

●     In normal case, virtual patient will show complete movement of head and the slider will be indicated with green colour; otherwise,there will be limit to the head movement and after the particular limit, the slider colour will be red.