Lymphadenopathy
Lymphadenopathy refers to the nodes that are abnormal in either size, consistency or number. There are various classifications of lymphadenopathy, simple and clinically useful classifications are Generalized; where lymph nodes are enlarged in two or more noncontiguous areas and Localized; where only one area is involved.
Through the virtual activity user can check the abnormality of the lymph nodes of the patient.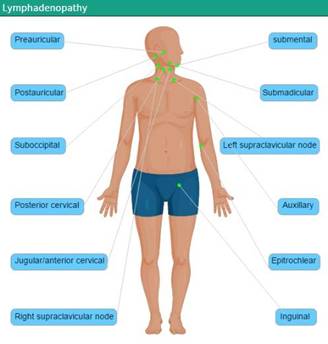 Simulation Type

Range,Using graphics

Gender Specific

No, common graphics for both gender

Range

Abnormalities are present or absent for a given lymph node. A total of 27 nodes is marked in the graphics.

Procedure

●     Click on the desired green marked sports or the labelled box on patient to check the abnormal lymph nodes.

●     The zoomed version of the selected part will appear with the option to change the zoom level using the magnifier provided at the top right of the central screen.

●     Click on the yellow color icon to see the position of the examiner with a close button on top.

●     Once the user clicks on each green spot, a small pop-up message will appear stating whether it is normal or the description of the abnormality.

●     One can go back to the previous image by clicking on the zoom out sign.