Chest X-Ray
A chest X-ray test is a very common non-invasive radiology test that produces an image of the chest and the internal organs. To produce a chest X-ray test, the chest is briefly exposed to radiation from an X-ray machine and an image is produced on a film or into a digital computer. Chest X-ray is also referred to as a chest radiograph, chest roentgenogram, or CXR. User can view the X-ray result produced by the simulated activity as per the virtual patient condition.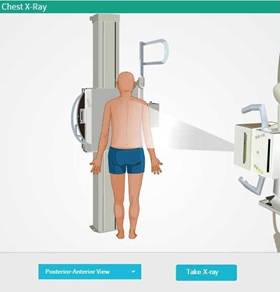 Simulation Type

Condition, Using graphics

Gender Specific

Yes

Condition Simulated

●     Normal (Male and Female)

●     Bronchitis (Male and Female)

●     Left atrium enlargement (Female)

●     Pneumonia (Male and Female)

Procedure

●     Select the view of the x-ray from the drop down box. (PA View, Lateral View etc)

●     Click on the 'Take X-ray'  button to see the x-ray.

●     Click 'zoom in'  and 'zoom out' button in the x-ray sheet for zoom in and out the x-ray and close button to close the x-ray view.