CN IX - Gag Reflex
The gag reflex is a reflex contraction of the back of the throat, evoked by touching the roof of the mouth, the back of the tongue, the area around the tonsils and the back of the throat. The user can see the contraction of the back of the throat using the interactive simulated activity.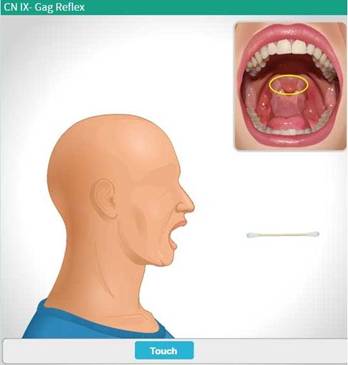 Simulation Type

Condition, Using interactive animation

Gender Specific

Yes, Separate audio feedback

Condition Simulated

 

●     Normal gag response

●     No gag response

Procedure

The system will display the patient's wide opened mouth and a button,"Touch".

●     Hit "Touch" to start the test, the ear bud will go inside the mouth to touch the patient's soft palate.

●     The patient's response will be indicated by an animation with a gagging sound.